Armstrong Neurology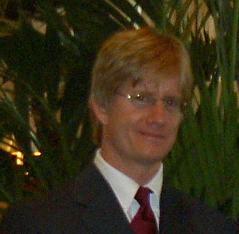 Dr. Armstrong graduated among the top of his class at
Brandeis University
where he was named one of the top ten pre-med students and graduated with a degree in Biochemistry.
While at Brandeis he also served as computer programmer for the Physics department and helped develop software which was instrumental in assisting in the determination of the mass of subatomic particles. He also developed additional software for the Physics department to assist in student education of complex theoretical concepts.
He served as a senior chemistry instructor. Dr. Armstrong graduated with highest honors including awards of Magna Cum Laude and was also awarded
Phi Beta Kappa.
Dr. Armstrong received his medical degree from
Yale Medical School.
During his time at Yale Dr. Armstrong was distinguished for his academic excellence, patient care, and original research. He completed an M.D. thesis and also completed two additional research projects.
Dr. Armstrong designed original software for the analysis of medical data. He also served as a graduate medical adviser for the university. He served as a founding member of the Brain Society.
He attended the prestigious
Southwestern Medical School Neurology Residency Programs at Dallas.
There he completed his internship in Internal Medicine and residency in Neurology. He then completed two additional years of fellowship in Neuromuscular Medicine and Neurophysiology. During his tenure at Southwestern Dr. Armstrong was noted for his contributions to medical education and given the Victor Rivera award for excellence in research.
Dr. Armstrong holds five board certifications by the
American Board of Psychiatry and Neurology
in the following specialties:
Neurology Neuromuscular Medicine Epilepsy
Clinical Neurophysiology Sleep Medicine
Dr. Armstrong is licensed in numerous states including; North Carolina, South Carolina, Virginia, West Virginia, Georgia, Texas, and a number of other states all along the Eastern Seaboard of the United States. He is an active member of the
American Academy of Neurology
, the North Carolina medical society, Catawba County Medical Society, the
American Association of Neuromuscular and Electrodiagnostic Medicine
and the American Academy of Sleep Medicine.
Dr. Armstrong continues to practice this tradition of medical excellence. He is extremely accomplished in the practice of clinical neurology with particular sub-specialty interests in neuromuscular neurology, epilepsy, and the diagnosis and treatment of complex neurological conditions. Dr. Armstrong is active in local community issues and charities. In his free time he provides free care to the under-served of our community.
Dr. Armstrong has participated in a number of scientific publications and speaks both Spanish and French.
---
The Armstrong Neurology Team

Our team includes outstanding highly trained professional members who will ensure your health care needs are diligently and professionally addressed.